How does a woman become a writer for God's glory when she fears man's disapproval or worse disinterest; when, by nature, she is a conflict avoider, OCD peacemaker (perceptive of everyone' emotional undercurrents), and unable to abide with being misunderstood? How does a woman who has lived emotionally under a banner of abandonment, proclaim the faithfulness of Abba Father, who promises to never leave or forsake us? Sounds impossible, doesn't it? Well, humanly speaking, it is. BUT GOD.
As in all things, God chooses the least likely candidate, a person after His own heart, and then He calls that person to do what is only supernaturally possible. I am the woman spoken of above, delivered of much and becoming a writer for God's glory. My Great Physician, Counselor, and Best Friend took it upon Himself to undertake training me to express His life dwelling within through the penned word. He called me to write while He heals, counsels, trains, and perfects me -- to live from now on in a contented state of becoming, of permitting Him to complete what He began.

He initiated the process of my becoming a writer by first pulling down walls and teaching me to trust Him in the sweetest intimate encounters a human being can experience and survive. Then, not long ago, He anointed me for the divine task (writing in the Spirit for His glory, and the encouragement of others), and gave me the assurance that I had ears and a heart to hear His voice. The rest is history – HIS STORY. Much like David, who went from shepherd boy to king, God has taken me, His anointed, on paths I never dreamed I would walk, assigning new roles and responsibilities en route to my God-appointed "destination." He blesses me with opportunities for the development of a true servant heart, and continues to patiently teach me how to travel light, relying only on the Holy Spirit. He coaches me daily in becoming child-like, and a student (of His life and ways, of other people, of life in the world around me). He gently unpacks my emotional baggage and grants incredible breakthroughs, to equip me to truly care for, comfort, encourage, and heal others. He liberates me to speak unselfconsciously of the joy He has given me, living free under His banner of love and belonging. As His beloved reporter, my prayer is to faithfully exhale the transforming messages He has breathed into my life experience with Him.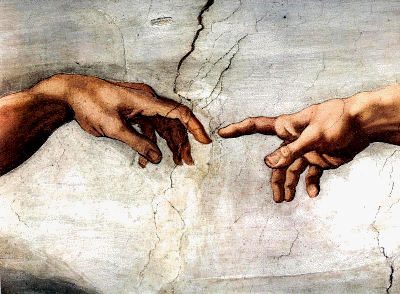 I am so thankful to be on this journey with my God and King, with My Daddy, sitting on His lap and listening with adoration, mesmerized as He lovingly transforms me into the image of Christ by His very breath. In His shadow I'll ever blissfully abide.
"For You are my refuge, a high tower where my enemies can never reach me. I shall live forever in Your tabernacle; oh to be safe beneath the shelter of Your wings!" Ps. 61: 3-4
"I lie awake at night thinking of You -- of how much You have helped me -- and how I rejoice through the night beneath the protecting shadow of Your wings." Ps. 63:6-7



Tonight we worshiped as Daddy's little girls down on the floor at Bible study. Each one co-created a painting of a tree with Father God. His life breath was repeatedly exhaled through a straw, blowing paint across a canvas, and forming a unique intricately branching tree. To the tree, leaves and blossoms were added with a Q-tip dipped in paint. Note that Q-tips, generally used to clean the ears, were applicators -- a reminder that hearing God is essential to blooming and fruit-production. (Hey, I never overlook a symbol!!)

I experimented earlier in the day with how best to "paint-blow a tree," and during that exercise God spoke using several object lessons. During my first experiment, I started with non-diluted acrylic paint. Due to the viscosity of the paint, I had difficulty coaxing it to "grow," and produce branches. I thought about the importance of "consistency" in my faith walk with Jesus. Through this first stunted tree, God revealed that in order to move forward with Him in creating a flourishing life (a tree with a beautiful crown atop its trunk), we must consistently abide in The Vine, and yield to the flow of the sap of the Holy Spirit in us. Otherwise growth is stunted.

The second principle I learned with experimental tree #2. With this tree, I used diluted paint and tilted the page I was working with to take advantage of gravity. Instead of resisting the paint's movement with a flat sheet of paper, I facilitated the creation of long graceful branches culminating in fine twigs as the paint ran and I blew it in the desired direction. Of course, there were still surprises!! At times my breath took the branch on an unexpected detour or split it into two new branches. Such is life when we cease fighting the gravity of our circumstances and flow with both the "tilt" of life and the breath of God taking us in unforeseen directions. This branching by His design produces a tree (united life) that can support extensive foliage and fruit for the shade and nourishment of many!!
Terry
Carrie
Job 33:4 in the Amplified version says: "[It is] the Spirit of God that made me [which has stirred me up], and the breath of the Almighty that gives me life [which inspires me]" Not only does God breathe life into our physical bodies, He breathes life into our dreams and desires. He breathes new life and inspiration into our hearts. Scripture also teaches, "It's not by our might. It's not by our power. But it's by His Spirit (the living breath of Almighty God)." I thank the Lord for establishing and anointing me, for entrusting me with the care and influence of others for His Name and Kingdom's sake!!
Try to pay attention in coming days to your breathing. As you do, picture inhaling the breath of God (in prayer, Bible study, all forms of communion with Him), and then exhaling His life thorough yours. It is a beautiful picture of the true Christian life of unbroken intimacy. You might also like to listen to a few of the videos at right that correspond to this article.
Abiding In His Breath and Shadow,
Terry